J. E. Laine
Doo Wop Singer Songwriter
There is hip new 50s music for today
J. E. Laine is cool, attractive, fashionable, soulful. And she is driven to write, record and perform contemporary music that is inspired by 1950s rock and roll.
She was a teenager during the 1950s on Long Island, New York and believes that, like herself, there are millions of music lovers who long for the special soulfulness of 50s music - and wouldn't it be fun if there were new songs, right now, that would give them that same poignant feeling. That's what J. E. Laine does - her music reflects her fondness for that historical sound.
The dreamy doo wop slow dances My Desire and You Were My First Love - everybody has a first love - and the haunting I'm Sorry are produced by the legendary Grammy nominated Johnny Gale.
The romantic Close To Me, I Swear and Angel Love - the high-energy lindy rockers Just Like Us and It's The Beat - the alluring That Look In Your Eyes and the driving My Heart Can't Take It are produced by the celebrated multi-talented Kevin Tooley.
during the pandemic of 2020 J. E. Laine feared that she might never see some people again. And so she wrote and recorded If I Never See You Again, produced by Ken Sonenberg.
According to J. E. Laine, "The 50s music so perfectly expressed our first time falling in love, falling out of love, heartache, joy - it's always universal and ageless - even when it's about the experiences we've all had since then." And so many of her songs are about the experiences we have all had since then.
J. E. Laine has taken her long lasting love for the rock and roll of the 50s and found a way to do it for today.
She loves writing songs and singing them. And she loves writing books - beachbooks kind of books - mystery and mystery romance novels.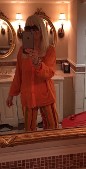 This page co-written by Janet Oseroff,
and co-written and curated by Chris Miller, creator and writer of Animal House

@2023 MultiMediaProperties LLC and Beachbooks Entertainment Inc. All rights reserved.